Stephanie Dorsey, LMFT x107
Licensed Marriage & Family Therapist #93618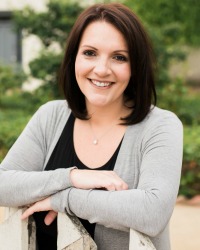 Hi, I'm Stephanie.
I help everyday people get the life they want.  I believe that even in the darkest places in life there is hope. Hope of healing, a new tomorrow, true peace, and a life well lived. I know you may have endured abuse, addiction, loss, or other trauma. I want you to know that tomorrow can be different than today. I know that change is possible if you are willing to do the work to make that change happen.
My goal is to come along side each client I see and assist you through your journey towards true peace and hope. I work with clients of all backgrounds and life stages to achieve the quality relationships and peace they have always longed for.
"You are the only you there is and ever will be."
— JEN SINCERO
You matter more than you know, you just need to matter to yourself.  Today is the day to make the time to put yourself first and begin the journey towards being the healthiest, happiest version of you possible.
My Story
I am a wife to a wonderful husband, and a mama to two beautiful little girls.  After working for several years in the healthcare field I realized my true passion was helping people heal psychologically, move forward from painful pasts, discover their true identities and grapple with the stresses of everyday life.
I attended Notre Dame de Namur University and obtained my MSCP as well as a Masters in Gerontology.  While completing my traineeship and internship, at the Christian Counseling Center of San Jose, I truly fell in love with working with adults of all life stages. Especially transitional life stages, going to college, beginning a career, getting married and starting a family seem to be the majority of my focus.
These stages are places where so often you lose the sense of yourself.  You become your role and have a hard time seeing yourself outside that role.  Some of the greatest work I have done with my clients has been to pursue healing of past hurts, balancing of new roles and a genuine understanding of each person's individuality and drive. I want the same for you.
Contact
Stephanie sees clients at the Carlsbad office.
Please contact her at 619.298.8722 x107 or (760) 854-4906
Licensed Marriage & Family Therapist #93618
Employed by Reinicke Counseling Associates