Ethiopian Water – 5 Peak Challenge Hike
December 26,2016
Challenge yourself, change the world!
This spectacular and challenging day hike will raise funds for a fresh water well in an Ethiopian Village that does not have one.  The hike is known as the "5 Peak Challenge" and includes Cowles Mountain, Pyles Peak, South Fortuna, North Fortuna and Kwaay Paay peak.  This event will feature breath taking, 360 degree views of San Diego from Downtown San Diego all the way up to North County.  A must see and do for those who live in San Diego!
"Few places in this world are more dangerous than home.  Fear not, therefore, to try the mountain passes.  They will kill care, save you from deadly apathy, set you free, and call forth every faculty into vigorous, enthusiastic action."
– John Muir
Itinerary:  You are not required to finish the 5 Peak Challenge in one day.  You can go as far as you want and finish at any point.  For most participants in good shape, the full 5 Peak Challenge will be completed in 7-8 hours.  The record is under 3 hours.  Whether you climb one peak or all five, the motivation is the same…Challenge yourself, change the world!
6:15am – Registration and check-in at dirt parking lot near Kumeyaay Lake Campground. It's on the corner of Bushy Hill Drive and Father Junipero Serra Trail in the west Santee area.
Climb Kwaay Paay. Descend back to trailhead and refill water bottles.  Cross the river and climb both North and South Fortuna.  Descend back the same way, refill water, walk to the parking lot and drive to the Barker Way, Cowles Mountain trailhead across the street from:  6951 Barker Way, San Diego, CA 92119.  There is no water at this trailhead.
Climb Cowles Mountain and Pyles Peak and descend the same way.
Congratulations, you did it!
Qualifying Steps for the Ethiopian Water – 5 Peak Challenge
Love adventure
Take lots of hikes (with elevation gain) leading up to this challenging event
Complete and submit Application and Liability Release Form
Make donation
Print out Packing List
Ethiopian Water – 5 Peak Challenge
December 26, 2016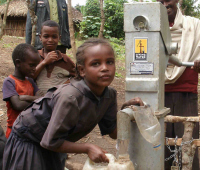 Sign Up Today to Reserve Your Spot
The donation is $60.00 per person.  100% of these proceeds will go directly to Living Water International. This non-profit has specialized for the last 25 years in providing clean water to the developing world.  You can also raise additional funds for this worthy project by getting sponsorships from family and friends.  Simply print out the fundraising form below or check out our crowd funding webpage to donate.  You can challenge yourself and change the world at the same time!
Click here for the fundraising request form
Availability is limited, so contact us if you have any questions.  If you are ready to challenge yourself and change the world, Register or Donate below to register for the event.